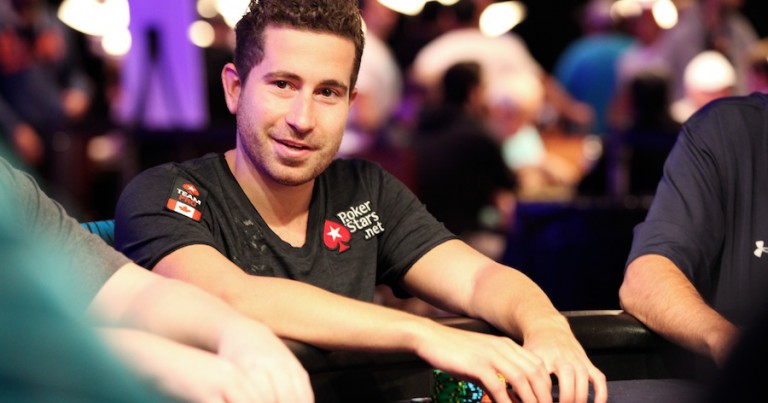 While most poker pros will hope to close the 2015 season on a good note as Prague and Las Vegas are set to host the final majors of the season, others will also be keeping a close eye on their Nation's Player of the Year race, hoping to be the first players to secure an invitation to the 2016 GPI World Cup should their country qualify.
Each qualifying country's 2015 PoY will be the first players invited to play the GPI World Cup, which is scheduled for Q4 in 2016 … let's take a look at a few races in countries favored to qualify for the 2016 competition:
USA
The mighty USA have all but secured their spot in 2016, leading Canada in the North American region by 11,000 at the moment. This means that the American Poker Player of the Year will also receive the USA's first invite for the GPI World Cup. Byron Kaverman and Anthony Zinno are currently involved in a race for the ages with both players holding over 4,600 PoY points.
2015 PoY RACE | USA
POS 
PLAYER
PoY PTS
BEHIND
1st 
Byron Kaverman
4,736.90
–
2nd
Anthony Zinno
4,649.07
-87.83
3rd
Nicholas Petrangelo
4,406.04
-330.86
GERMANY
Germany is another powerhouse expected to qualify for the 2016 GPI World Cup and, like in the US, an incredible race for National PoY is expected to go down to the wire as 14 points separate Dominik Nitsche and Fedor Holz in the race while Matin Finger is only 140 points behind – down to the wire we go!
2015 PoY RACE | GERMANY
POS 
PLAYER
PoY PTS
BEHIND
1st 
Dominik Nitsche
3,848.66
–
2nd
Fedor Holz
3,834.30
-14.36
3rd
Martin Finger
3,708.96
-139.07
CANADA
Canada will more than likely be chasing an at-large bid into the 2016 GPI World Cup as the USA seem to be in total control of the North American region. Still, those in the Great White North seem in prime position to once again qualify for the Cup, leaving Jonathan Duhamel in control of his destiny at the moment as the 2010 WSOP Main Event winner could be representing Canada for the second straight year.
2015 PoY RACE | CANADA
POS 
PLAYER
PoY PTS
BEHIND
1st 
Jonathan Duhamel
3,483.84
–
2nd
Sam Greenwood
3,222.02
-261.82
3rd
Mike McDonald
3,211.25
-272.59
UNITED KINGDOM
Just like Canada, Team UK would qualify for the 2016 GPI World Cup via an at-large bid as Stephen Chidwick looks to be the man to beat in both the Nation's World Rankings and in the PoY race. Chidwick declined an invitation at the 2015 GPI World Cup, will he play in 2016?
2015 PoY RACE | UK
POS 
PLAYER
PoY PTS
BEHIND
1st 
Stephen Chidwick
3,555.22
–
2nd
Jack Salter
3,046.15
-509.07
3rd
Niall Farrell
2,560.21
-995.01
ITALY
One race that is sure to produce the first player to be officially invited to play the 2016 GPI World Cup is the one in Italy. As defending Champions, the Italians are the first country to be officially to participate in the 2016 tournament.
Two players who played a crucial role in seeing Italy win the inaugural GPI World Cup are involved in one the closest races of 2015 as Mustapha Kanit and Dario Sammartino are separated by just 13 points. Both players are expected to play a ton of events at the EPT Prague Festival.
While Sammartino has already collected 13 scores this season (the maximum amount of scores calculated for PoY scoring), Kanit has totalled 11 scores in 2015 so his next two scores will automatically count towards his 2015 points total while Sammartino will require a minimum of 103 points in order to improve on his current total.
2015 PoY RACE | ITALY
POS 
PLAYER
PoY PTS
BEHIND
1st 
Mustapha Kanit
3,145.92
–
2nd
Dario Sammartino
3,132.63
-13.29
3rd
Max Pescatori
2,160.44
-985.48
Here is a look at a few PoY races for other contending Nations for the 2016 GPI World Cup:
| | | | | |
| --- | --- | --- | --- | --- |
|  COUNTRY | LEADER | PoY PTS | 2nd PLACE | PoY PTS |
| Russia  | Alexander Denisov | 3,306.40 | Vladimir Dobrovolskiy | 2,822.58 |
| France | Benjamin Pollak | 3,062.12 | Paul Tedeschi | 2,649.63 |
| Ukraine | Igor Yaroshevsky | 3,548.49 | Artem Metalidi | 2,071.80 |
| Spain | Adrian Mateos | 2,794.40 | Javier Zarco | 2,413.03 |
| Argentina | Ivan Luca | 3,503.24 | Mario Lopez | 2,634.35 |
| Belgium | Davidi Kitai | 3,150.18 | Matthias De Meulder | 1,836.69 |
| Poland | Dzmitry Urbanovich | 4,095.19 | Jose Carlos Garcia | 1,891.97 |
| Austria | Thomas Muehloecker | 2,890.48 | Gerald Karlic | 2,152.64 |
| Bulgaria | Dimitar Danchev | 2,312.80 | Atanas Kavrakov | 2,309.03 |
| Belarus | Anton Astapau | 2,471.24 | Kiryl Radzivonau | 2,144.28 |
| Brazil | Andre Akkari | 2,559.75 | Ariel Celestino | 1,959.67 |
| Greece | Georgios Zisimopoulos | 2,739.03 | Georgios Sotiropoulos | 2,328.56 |
| Finland | Jussi Nevanlinna | 2,181.26 | Juha Helppi | 1,773.92 |
| Australia | Jeffrey Rossiter | 1,921.72 | Jonathan Karamalikis | 1,863.67 |